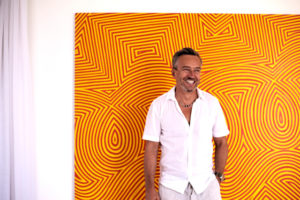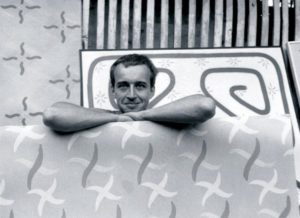 Petr Kvíčala is on of the most significant personalities in Czech abstract non-picture painting. He discovered that ornaments might present crucial centre topic of a painting. In such a way his work represent a continuation of a series of orders enriched by uniquely outstanding features of ornaments.
His implementation of an ornament as the central topic of a painting was certainly a way of reflecting the post-modern nature of the times, though ornament refers to contexts of both culture and history different from the post-modern ones.
Through ornament his work relates to cultures distant in both time and space. Kvíčala, however, did not choose a simplistic acceptance of the ornaments significant for his own cultural background. His topics were initiated through rhythmical repetition of nature-based details.
Towards the end of the eighties and in the early nineties Kvíčala became a pioneer discovering and promoting ornament as a unique individual phenomenon. At the same time both through his work and as a creative artist he confirmed the significance and importance of painting in the era when new media were violently trying to replace other forms of visual art. Logically his work eventually became an integral part of the contemporary painting both within the Czech and broader context.
Since he also explored the process phases of painting creation and to what extent and through what the painting is determined by the surrounding space, he moved towards working on architectural projects and cooperation with renowned national as well as foreign architects. He also lectures and teaches at the Academy of Fine Arts in Brno, where he heads his own creative atelier.